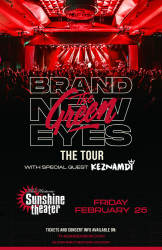 The Green
with Keznamdi
Time: 8:00pm Day: Friday Doors: 7:00pm Ages: All Ages Price: $22
This Event Has Ended
Ticket price is subject to change at door
With much of the live music industry scaled back or in a holding pattern for 2020 and 2021 due to the COVID-19 pandemic restrictions, many musicians enjoyed an extended hiatus at home with family and friends and additional time to focus on their music. Hawaii-based reggae band The Green sum up their period of self-reflection, as well as overcoming personal challenges, on the title track of their 6th studio album, Brand New Eyes, out November 5th (Easy Star Records/Ineffable Records). A powerful roots reggae song, "Brand New Eyes" was co-written by one of The Green's four lead singers, JP Kennedy, and Grammy nominated singer/songwriter Kimie Miner.
"Kimie is a friend of the band and the song was inspired by us becoming new parents at about the same time, but as our latest album came together, the song evolved into a whole new thing," explains JP Kennedy. One of the greatest accomplishments for JP during lockdown was going into rehab; throughout that time the band kept up their rigorous rehearsal and work schedules. "When I was away, the band took that time to evolve so when I got out, we had a whole new foundation of what we are working from; I was blown away by that. Even though 'Brand New Eyes' was written years ago, it speaks to where the band is now, what centers us to achieve the same goal. The song is relevant to looking at your life and trying to make things better." "It's about having minds of our own, different lives, seeing things from a different perspective," adds vocalist Caleb Keolanui, who co-produced "Brand New Eyes," alongside JP, Leslie Ludiazo, and Lapana Ieriko, the crew that also produced the tracks "Stay True," "Feeling Free," and "DFRTNLY," all recorded at Honolulu's Live Animaux Studio.
The Green are among the very first reggae bands from the Hawaiian islands to extensively tour the US mainland and perform in such far-flung locales as Japan and New Zealand. One of the genre's busiest acts, prior to headlining their own tours, the band supported many American reggae bands including Rebelution, Iration, SOJA, and even Jamaica's Damian Marley. Grammy winning pop superstar Bruno Mars selected The Green to open his three sold out shows at Honolulu's Blaisdell Arena in 2014 and his two sold out dates at Honolulu's Aloha Stadium, Hawaii's largest outdoor venue, in 2018. The Green have also appeared on several of America's biggest music festivals, including the Vans Warped Tour, Wakarusa, Life Is Beautiful, Sierra Nevada World Music Festival, One Love Cali Reggae Festival, California Roots Festival, and Rebelution's Bright Side Festival in Jamaica. The Green launched their forthcoming album by performing two consecutive shows on May 20-21, 2021, at an event called Brand New Eyes: The Experience. It was held on the rooftop of Waikiki's International Market Place and is Hawaii's first rooftop concert; the concert footage will be released at a later date.
For band members Ikaika Antone (keyboards, vocals) and Zion Thompson (guitar, vocals), who became first time fathers during the pandemic, the lockdown afforded expanded time to bond with their newborn daughters; for the entire band, the lockdown provided an opportunity for deeper concentration on their music making. "Because we weren't touring, we were able to pull the album together in a way that we couldn't before," says Ikaika. "Now that our families are growing, it's time to get more proactive with our music, so the pandemic was a blessing in disguise, and we adapted really well."
One of the album's standout tracks is the ballad "Young Man," produced by Imua Garza. Ikaika takes the lead, openly sharing the struggles he and his wife experienced trying to conceive their daughter; the song is tenderly written from the perspective of their unborn child. "I wrote the song over the process of trying to conceive, beginning with our first miscarriage, then having trouble getting pregnant again, then we had another miscarriage, an 18-month span that ends with a pregnancy that we held on to," reveals Ikaika. "The listener might not get that, but they will get that someone is lost, maybe struggling with an addiction." When Ikaika wails, "living life on the bottle and a hand on the needle, planting a seed will be harder for now," he's not depicting a drug addict or an alcoholic's unstable reality, he's referencing the fertility drugs that his wife took to conceive their child. "Ultimately, whatever the song will mean to people will be powerful in some way," Ikaika continued, "and I hope they get the message of hope, love and strength because those were the things that helped us to persevere during that time."
The Green was formed in 2009 with Caleb Keolanui (lead and backing vocals), Ikaika Antone (keyboards, lead and backing vocals), JP Kennedy (lead and backing vocals, guitar), Zion Thompson (lead and backing vocals, guitar) and Brad Watanabe (backing vocals, bass, keyboards, guitar, drums). Drummer Jordan Espinoza joined in 2011, replacing Leslie Ludiazo, who remains the band's musical director.
The Green's self-titled debut was recognized by iTunes as the Best Reggae Album of 2010. In 2014, the band received three prestigious Na Hoku Hanohano awards (considered Hawaii's equivalent of the Grammys): Group of the Year, Reggae Album of the Year and Entertainer of the Year. They've also had three albums released via Easy Star Records that topped the Billboard Reggae Album chart, 2011's Ways and Means (which spent four weeks at number one), 2013's Hawaii 13, and 2017's Marching Orders, which stayed in the top 10 for 18 consecutive weeks, regaining the no. 1 spot three separate times. Marching Orders was distinguished as the Best Reggae Album at the 2018 Na Hoku Hanohano awards. In 2019, The Green released an acoustic set of their greatest hits, Black & White, the same year they were named Group of the Year at Hawaii's Island Music Awards, created by Hawaii's no. 1 reggae radio station, Island 98.5 FM.
The varied cast of producers complementing the enhanced writing on Brand New Eyes' 11 tracks brings out a bolder shade of The Green. They include Jamaica's Phillip "Winta" James on "Recipe" and "Lost You" and Brooklyn's Ricky Blaze on "Feelings." Brian Fennell (a.k.a. SYML, a successful artist in his own right) who has worked with Third Eye Blind, OneRepublic and with The Green on Marching Orders, helms the production on "Coming Home," "Blue Skies," and "My Friend (Don't Give Up)." "We get a lot of inspiration from each song and as our songwriting grows, that has an effect on everything, including who's producing it," notes Ikaika. "From album to album, we recognize that our songs are getting more mature so sonically, it evolves in the same way." "With Brand New Eyes we have a pretty good size production team, which allows us to take songs to places that we wouldn't have been able to on our own," adds JP.  "Songs like 'Recipe' (a sultry interpolation of legendary English band Aswad's 'Your Recipe'), 'Lost You' (an exquisite reggae love lament), and the irresistible soca-tinged 'Feelings' (featuring Jamaican singer Gyptian and J Boog) are completely Jamaican produced; that's the result of having years in the game, being able to work with veterans and not having to do everything ourselves." Other guest artists include Alborosie on the redemptive reggae track "Feeling Free" and Keznamdi on the ethereal"Blue Skies."
The Green has earned rave reviews from Billboard, which described their music as "a powerful sonic identity that fuses late 1970s-era dub-heavy roots reggae with strands of contemporary rock/pop/R&B and sporadic indigenous Hawaiian musical and lyrical references." Top Shelf Reggae enthused: "The Green as a musical force cannot be overstated; they are one of the most consistently loved bands in the genre."  The band has almost 1 million monthly active listeners on Spotify, nearly 50 million total plays on Apple Music and over 311 million lifetime streams on Pandora.
As The Green prepares to hit the road again in 2022, Brand New Eyes' heart wrenching ballad "Coming Home" ruefully expresses the most challenging aspect of touring faced by musicians: telling their young children they are leaving home, again. "I wrote the chorus and two verses, and Caleb wrote the second verse," says bassist Brad Watanabe. "When we were on tour, I saw the boys talking to their kids back home and I thought, what is it like for the kids when we leave?" Sensitively conveyed by Caleb's lead,
"Coming Home" is notable because it is partially written and sung in ʻŌlelo Hawai'i, the indigenous Hawaiian language that was banned in schools and government by the United States in 1898. Five years earlier, a consortium of sugar and pineapple businessmen, the American minister to Hawaii, and heavily armed soldiers and marines deposed and subsequently imprisoned Hawaii's Queen Lili'uokalani, conspired to annex the islands to the US, and seized 1.75 million acres of crown land. Hawaii became a US territory in 1900 and the 50th US state in 1959, by which time the Hawaiian language had nearly vanished. A revival began in the 1980s and Hawaiian Language Immersion Schools were created to provide K-12 Hawaiian language education.  "I have been learning Hawaiian for the past three years, teaching at a Hawaiian Immersion School, and the language has become a really big part of my life; I didn't set out to write the lyrics in Hawaiian - they just came to me that way," adds Brad.  "Brad is the one guy in the band who doesn't have kids yet, so coming from him, this song is a very impactful, universal take on the whole story," offers JP. "We also take great pride in our Hawaiian culture, so it's massive for Brad to be taking up the Hawaiian lyrics and putting them into our music."
Brand New Eyes concludes with "My Friend (Don't Give Up)" a polished, soulful fusion with empowering lyrics that offer an important reminder: "You are enough, more than enough and never, ever change," a sentiment that has gotten the band through their greatest hardships. "Responding to adversity is something that we are naturally good at," reflects JP. "We all come from humble beginnings and when things start to get rocky, we toughen up and just get it done. Throughout the pandemic, we just hunkered down and did what we needed to do. I am so proud of Brand New Eyes; I am proud of all of our albums, but the way this one happened through all of the challenges, I am so stoked to share it."
By Patricia Meschino