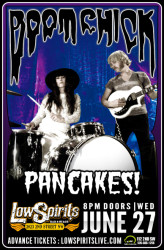 Boom Chick * Pancakes!
June 27, 2012 9:00 pm
- 12:00 am
Add to Cal
//=$other_events?>
Time: 9:00pm Day: Wednesday Doors: 8:00pm Ages: 21+ Ages Price: $7
This Event Has Ended
Ticket price is subject to change at door
Boom Chick is a big hit of surf-garage momentum and rock and roll from Brooklyn, NY. Boom Chick is a duo that consists of Frank Hoier on guitar & vocals and Moselle Spiller on drums. Formed in September 2009, their sound is a reflection of their ecstatic love for early American rock & roll, surf guitar and Delta blues. Boom Chick's amplified "Honky Tonk Surf Rock" brings you back to the era when people spoke their mind, creating a sound that delivers on all those things rock n' roll promised us so long ago.



Frank Hoier was born in sunny southern California as the son of a music producer and former Motown band member. Growing up in the greater Los Angeles Frank's main passion was skateboarding and he managed to secure a few sponsorships for his skills but with the constant of music in his home be quickly became enamored with Motown and rock and roll. Being around his father, Hoier picked up guitar and recording techniques that he's carried with him throughout his career, producing all of Boom Chick's music on vintage recording equipment and solely performs on vintage guitars.



Moselle Spiller grew up in New Hampshire and was a junior Olympic downhill skier in her youth and a successful international graphic designer after college. She still continues graphic design as she produces all Boom Chick posters and merchandise. She picked up drums when she met Frank in 2008. Moselle's ability to learn drums in a matter of weeks led to the band's name "Boom Chick". Frank said he simply showed her a "boom" "chick" on the drums and the next thing he knew he was standing on stage at a rowdy loft party with Moselle banging her way through a set. It all started with a Boom Chick. Moselle's ability to pick up drums in a matter of weeks is a highly discussed topic at shows and in the press.



Boom Chick's debut album Show Pony garnered high praise from local media and national music critics. The release made Magnet Magazine's Best of 2010 List and several songs from the album have been featured in skateboard videos for Thrasher Magazine and Element Skateboards. Their song "Ghost of Bo Diddley" was featured in ESPN's X series The Kids, and Big Star Jeans' fashion teaser All Day.



In March 2012, Boom Chick released a 7" single titled "Shake Can Well". The lyrics to the song can be found in your garage on the back of your favorite aerosol spray can. The response to the single was overwhelmingly positive and their long anticipated full length album release date was set for October 2012. After four national tours, Boom Chick are known for laying down an attention-grabbing, danceable surf/garage-rock set with catchy lyrics and a little 50's delta blues. Together, Hoier and Spiller bring an art rock style that is not often seen anymore — marking a rehashed retro revival rock scene with class.